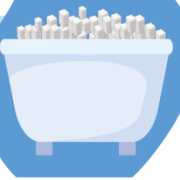 Dr. Fadra Whyte and Dr. Melissa Campos are collaborating to highlight awareness about sugary drinks that children often consume.
Dr. Melissa Campos is working with her FQHC clinic to institute a sugar sweetened beverage intervention. She plans to share educational materials and water infused drink recipes with patients. She will soon send out a flyer that will contain a QR code to a sugar beverage awareness video, created by Dr. Amy Beck (Cohort 2, San Francisco).
Dr. Campos and Dr. Fadra Whyte are working with San Ysidro Health to pilot an education program utilizing the sugar beverage awareness video.
Dr. Fadra Whyte presented about the link between oral health and overall health at the annual conference for the California Academy of Physcian Assistants.
Link to Dr. Beck's Sugar Beverage Awareness Video: https://www.youtube.com/watch?v=vdUimv8NyvQ
Link to PDF with QR code about Sugary Drinks:
https://championprovider.ucsf.edu/sites/champion.ucsf.edu/files/images/Sugar%20Drinks.pdf