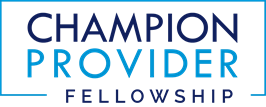 The all-day, in-person Mini College is designed for Champion Provider Fellows and local health department representatives. The agenda will include skill booster workshops, work-in-progress panels by Cohort 2019 fellows, and opportunities for networking. All Champion Provider Fellows from current and past cohorts are invited to attend, but travel will only be reimbursed for Cohort 2019 fellows.
Location: DoubleTree 2001 Point West Way, Sacramento, Ca 95815
Lodging: *Cohort 2019 Champion Provider Fellows who live/work 50+ miles from the venue will be reimbursed for one night at the state rate of $95/night + tax. You must use the reservation link and group code below to receive the reimbursable, discounted rate.
Booking link for discounted rate: https://doubletree.hilton.com/en/dt/groups/personalized/R/RLSA-DT-CPF-20200326/index.jhtml?WT.mc_id=POG
Group Name: Champion Provider Fellowship Mini College
Group Code: CPF
Check-in: 26-MAR-2020
Check-out: 27-MAR-2020
Discount Code Expires: Tuesday, February 25, 2020 @5PM
More information regarding travel and agenda will be posted as they become available.