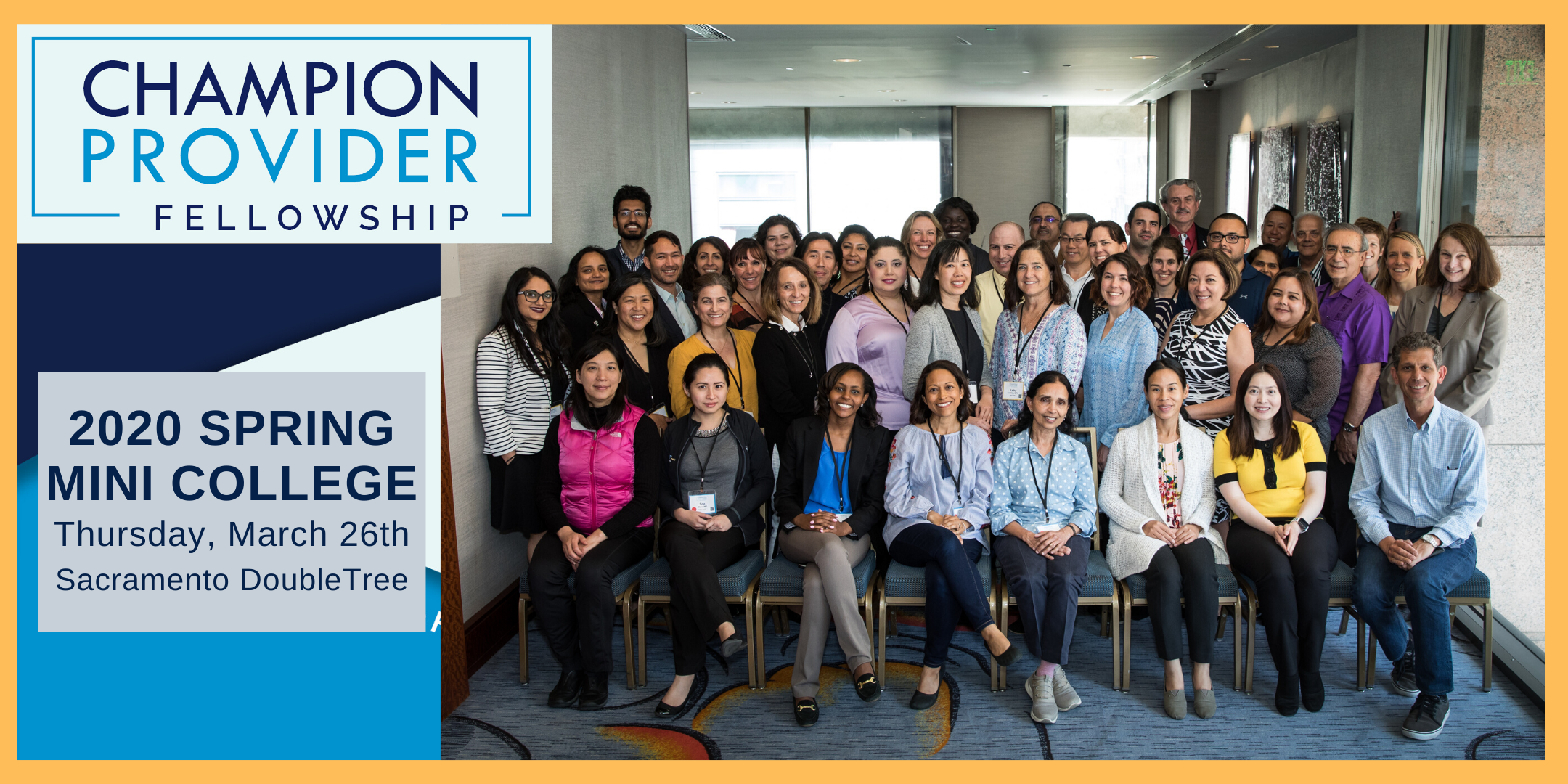 Location: 
DoubleTree by Hilton Hotel
2001 Point West Way Sacramento, CA 95815 
The in-person Mini College is designed for Champion Provider Fellows and local health department representatives. The day will include skill booster workshops, presentations by Champion Provider Fellows, and networking opportunities.
Keynote Speaker: Dr. Alice Chen, Deputy Secretary for Policy and Planning at the California Health and Human Services Agency (CHHSA). Dr. Chen has served as deputy director and chief medical officer for the San Francisco Health Network at the San Francisco Department of Public Health and Professor of Medicine at the University of California, San Francisco School of Medicine. Familiar with the Champion Provider Fellowship (CPF) program, Dr. Chen along with her colleague Dr. Louise Aronson, led the Writing for Change workshop at the onboarding training for the inaugural CPF cohort in 2014. 
Time

Session

8:00AM – 8:30AM

Registration

8:30AM – 8:40AM

Opening Remarks

Vanessa Thompson, MD | Director, Champion Provider Fellowship

8:40AM – 9:05AM

Introduction: Champion Provider Fellowship & Local Health Department Development Planning

PART I: Successes

Wagahta Semere, MD, MHS | Assistant Professor, UCSF School of Medicine

9:05AM – 10:00AM

Policy Landscape Panel Discussion

Moderator: TBD | Panelists: TBA

10:00AM – 10:15AM

Break

10:15AM – 10:30AM

Remarks from CDPH CalFresh Healthy Living Program

Dr. Caroline Kurtz |  Branch Chief, CalFresh Healthy Living Program

10:30AM – 11:15AM

Keynote Presentation

Dr. Alice Chen | Deputy Secretary for Policy, Planning at CHHSA

11:15AM – 11:40AM

Development Planning Part II: Challenges

Facilitators: Drs. Wagahta Semere & Vanessa Thompson

11:40AM – 1:00PM

Lunch

1:00PM – 2:20PM

Media Training: Pitching & Testimonials

Brown Miller Communications

2:20PM – 2:30PM

Break

2:30PM – 3:30PM

Work In Progress Panel Presentation

Moderator: Dr. Wagahta Semere | Champion Provider Fellow Panelists: TBA

3:30PM – 4:15PM

Development Planning Part III: Future Goals and Facilitated Discussion

Facilitators: Drs. Wagahta Semere & Vanessa Thompson

4:15PM – 4:30PM

Closing Remarks & Evaluations

Vanessa Thompson
*Note: Session times and presenters subject to change.
*Please only use this reservation link or call with group code for the negotiated room rate* 
or
CALL: 800-686-3775
Group Name: Champion Provider Fellowship Mini College
Group Code: CPF ($95+/night) 
Cut-Off Date: February 25, 2020 @5pm
Check-in: 4PM | Check-out: 11AM
Unfortunately, we are not able to provide food or beverage at the training, therefore, all meals will be on your own.
Updated lunch options will be posted soon, to allow for an on-site, networking lunch.